Source: The Reporter
NEW BRITAIN >> Villari's Self-Defense students gave new meaning to the term "legwork" with their efforts in the school's annual Kick-a-Thon fundraiser for Manna on Main Street Saturday, June 3.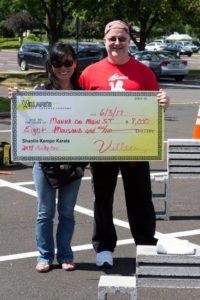 Planned by student leaders, about 75 students from the Chalfont and Harleysville studios were sponsored to do 500 kicks in the parking lot of the New Britain Village Square shopping center, where one of the studios is located.
Villari's of Chalfont owner and chief instructor Harry Pfister also wowed the more than 100 spectators as he broke 41 2-inch-thick concrete blocks.
"I attempted 50, but thanks to the rain, the bricks were wet and [were] tougher to break!" Pfister stated in an email.
In addition to the demonstrations, the Kick-a-Thon also offered silent auctions, magicians, fire trucks on display and food and T-shirt sales, according to Manna Development Officer Paige Harker.
The event raised $8,0000 for Manna's operations — which include a food pantry, soup kitchen and various services and educational programs — and also collected nearly 400 pounds of food donations, Pfister stated.
"We do this every year and have been doing it for 10 years now, raising over $80,000 and close to 1,500 lbs. of food," according to Pfister. "We love what Manna does, and every year I find out more about what they do.
"I had a gentleman walk by my karate studio the week before the Kick-a-Thon and saw the Manna sign in my window. [He] told me he really appreciated and respected that we support Manna, because he has needed help in the past and Manna helped him get through a rough time," he continued. "These are the things that make Manna on Main so great, and why we love supporting them! We donate it all to Manna, not some percentage. Every dollar raised at the event goes to Manna."