---
Manna's education classes are effective, with life-changing opportunities for individuals in our community.
This free program continues to strengthen our focus on job readiness, budgeting, and computer literacy.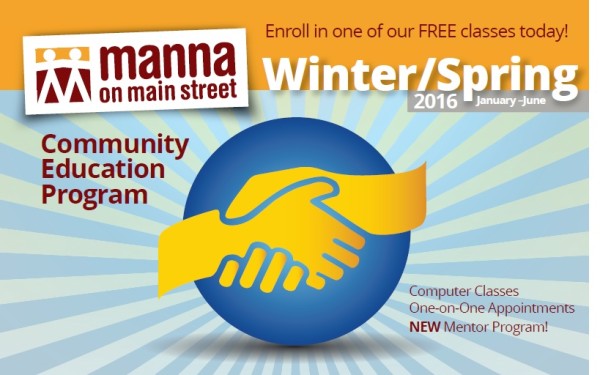 One of our most exciting additions to the program is the NEW Mentor Program, which is an extension of our existing one-on-one appointment format for individuals to work over a 3- or 6-month term toward their budgeting or job-related goals.
Our weekly computer classes and one-on-one/mentor sessions are led by talented volunteer instructors with experience and desire to help. Appointments and mentoring sessions can be scheduled throughout the week–simply indicate your preferred day(s) and time(s) of day on the enrollment form.
A number of individuals have received employment opportunities, developed more comprehensive computer skills, and learned money-saving tips and tricks after attending classes, workshops and/or individual appointments in our FREE Education Program. In the past year alone, over 100 individuals participated.
We are here to help you succeed, no matter what your learning goals. We hope to see you soon!
Registration
Sign up for a one-on-one job readiness or budgeting session using the appointment request form. Or, sign up for the mentor program to work with a volunteer instructor for a longer term. Our Education & Volunteer Coordinator, Janae Hoffler, will contact you to pair you with a volunteer instructor.
Interested in our computer classes? Complete our computer class sign-up form to reserve  your spot!
---
Get Involved as a Volunteer Instructor
We're always on the lookout for volunteers to assist us in leading and/or co-teaching sessions for Manna's Education Program. If you are interested in becoming a volunteer instructor, please complete the form below with your information and area(s) of expertise.  Thank you!