Fresh Kids Volunteers Needed!
Manna is looking for volunteers interested in helping to implement Fresh Kids, a nutrition education program for children & their families.Volunteers will be asked to work directly with children, delivering nutrition lessons & fun activities that have been prepared by Manna staff.  These mini lessons, lasting approximately 30 minutes, take place Monday evenings at Manna at 6:15 p.m. If you enjoy working with children & are interested in volunteering, please contact Mikaela at mikaela@mannaonmain.org or (215) 855-5454 for more information.
April: Put a Rainbow on your Plate

Hang out with us at Fresh Kids in April for fun activities about filling your plate with a rainbow of fruits & veggies.  We'll be reading a book, eating a yummy snack, & more!  You can participate in April's Rainbow on your Plate lesson on the following days:
Coming up in May: Gregory the Terrible Eater

About Fresh Kids
Fresh Kids is an interactive, dynamic nutrition program designed to empower children to make healthy lifestyle choices. During each 30-minute lesson, children learn about a special food or food group, & then do a fun activity on that topic. Several of the classes are based on The Food Trust's award winning practice-based initiative, Kindergarten Initiative.  Our first Fresh Kids lesson was held in September 2014, on the topic of farmers' markets. The kids read a book about farmers, learned how produce gets to our towns & cities, & identified fruits & veggies that are grown in Pennsylvania. Each group then did an apple taste-test of a variety of local, orchard-fresh apples. It was a delicious month for Fresh Kids!  Since then, we've done lessons about healthy resolutions, whole grains, green fruits & veggies, hearth health, eating the rainbow & much more.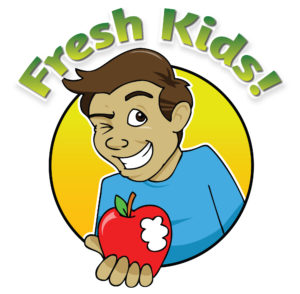 The objective of Fresh Kids is to improve child and family nutrition in our community by offering an accessible and enjoyable way to learn about healthy foods and behaviors. Each month, we develop a theme, which is then presented twice a week to kids right here at Manna. The lessons are held at no cost and take place during dinner and pantry service hours, so that parents can drop their kids off for the program while they shop or eat a meal. Fresh Kids also incorporates Manna's Produce 4 Kids & Cool Kids Corner programs, which are child-friendly shopping areas in our pantry that encourage healthy food selection, education, & information.
At the beginning of 2015, we brought Fresh Kids out into the community, collaborating with several partners, so that we could reach more children.  So far, we've been offering Fresh Kids at the following locations:
To date, Fresh Kids has reached more than 350 children in the North Penn communities!  If you or your organization would like to learn more about, or to offer the Fresh Kids program at your agency, please contact Mikaela at mikaela@mannaonmain.org.  To view a sample curriculum, click below for Fresh Kids lesson materials for the Where is Local? module: