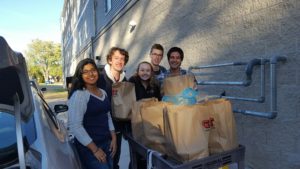 Our Market and soup kitchen are largely supported through the generosity of community members, local businesses and service groups. Your donations, from a box of food to a food drive, help us feed and care for those in need in our community. Thank you for donating food to help the hungry among us!
Last year, Manna served 35,636 meals and distributed 476,585 lbs of groceries to 1,026 households through our Market! Your support makes a difference right in our own backyard.
We gratefully accept:
non-perishable foods
fresh produce
frozen and refrigerated items
prepared food from a commercial kitchen (catered leftovers as well)
Hygiene and cleaning products
Please view the items that we currently need in our soup kitchen and Market. We prefer not to take expired or spoiled items, or candy and junk food. Due to Department of Health regulations, we are not allowed to accept food prepared in a residential home. Please contact manna@mannaonmain.org with any questions. Thank you!
Click Here to Learn More About:
How/Where to Drop Food Off
Food Drives
Frequently Asked Questions