Thank you for your continued volunteer service and commitment to Manna's mission. We truly appreciate everything you do to support Manna's programs and families in need!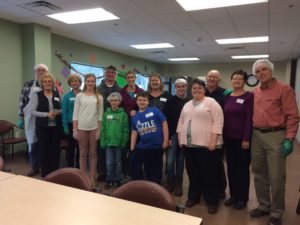 If you have already attended a new volunteer orientation session, you should have received an account activation email from us, directing you to Manna's online volunteer calendar. If you have not yet received this email, and attended an orientation and submitted your required clearances more than a week ago, please contact Meg Currie Teoh via email, meg@mannaonmain.org.
If you have an existing account, please click the link below to access our volunteer calendar.
Important Attendance Information
Our volunteers are essential to Manna's programs and services. We depend on your attendance for your scheduled shift. We understand that emergencies and schedule conflicts happen that may prevent you from being here for your shift. However, please inform us immediately if you are unable to be here, and remove your name from the shift on our website. Failure to do so is considered a "No-Show," which affects everyone. Please be considerate of your absence's effect on staff, volunteers on your shift, and volunteers who cannot sign up as a result.
In the event that you are a No-Show, the following consequences will include, but may not be limited to:
1st Occurrence: Verbal warning— We will call you or speak to you in person about your absence, and remind you that your attendance is important to all of us.
2nd Occurrence: Written warning— You will receive a written warning that this is your second occurrence, and you are in danger of facing further consequences.
3rd Occurrence: Account suspension—You will be ineligible to volunteer with us for a minimum of 60 days, after which you are required to meet with a Manna staff member to determine your eligibility to return.