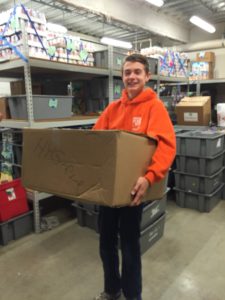 Whether you're considering volunteering with us for the first time, or have been assisting Manna for many years, we recommend taking a few minutes to review the following frequently asked questions. If you have additional questions that are not answered below, please contact us and we'll be happy to assist you with further information.
Q: If I would like to volunteer at Manna on Main Street, what do I need to do?
A: Before volunteering with us, all volunteers are required to attend a new volunteer orientation. These sessions are held three times per month, typically on a Saturday, in the evening, and in the morning. More information can be found on our website at How to Volunteer.
Q: How old do I need to be to volunteer?
A: We take volunteers as young as 10. However, volunteers from ages 10-13 need to be accompanied by an adult. Ages 13+ can volunteer on their own in any of our program areas.
Q: Are volunteers required to submit any clearances? Why?
A: Yes. Manna strives to maintain a safe facility for all who participate in our programs and receive our services. This is especially important with respect to children's safety. Therefore, we have implemented the PA Act 153 Clearance Policy for all adult (ages 18+) volunteers who serve in any capacity at Manna.  In addition to attending orientation, these clearances must be submitted before beginning volunteer service.
Q: I'd like to bring a group to volunteer. Do group volunteers need clearances?
A: Depending on the frequency of service, some or all adults in a group will be required to submit the mandated clearances. The Pa Act 153 Clearance Policy indicates the requirements by frequency. Group coordinators are asked to inform their members of this policy and the submission process.
Q: Where do I send my clearances?
A: All required documentation should be submitted via email to clearances@mannaonmain.org.
Q: I'm having trouble navigating the site to obtain my clearance – can you help me?
A:  If you have trouble navigating any of the sites to obtain your clearances, the best option is to contact that specific agency's help desk for assistance.
Q: What types of jobs do volunteers typically help with at Manna on Main Street?
A: Over 100 volunteers assist Manna with a variety of programs each week. As a volunteer you can help by serving meals in the soup kitchen, assisting clients with shopping needs in the food pantry, stocking shelves, sorting donations, facilitating an education session and more.
Q: Once I attend a new volunteer orientation, can I begin volunteering immediately?
A: At the end of your orientation, you will receive the link to join our online scheduling system. Once you've registered online and activated your volunteer account, you can begin signing up to help on the dates that work best for your schedule. We're looking forward to serving with you!
Q: Do you accept volunteers who need to complete community service?
A: Yes, we accept volunteers who need to complete community service for school, extracurricular programs, and with some exceptions, court. Please visit How to Volunteer for more information.
We will gladly confirm service hours for any volunteer. Volunteers are expected to:
Inform the Education & Volunteer Coordinator of all necessary documentation;

Request verification of completed hours a minimum of 5-7 business days before any deadline.
Q: How often am I required to volunteer?
A: There is no minimum number of days you are required to volunteer. Manna on Main Street volunteers help as often as their schedules allow. Some volunteers serve a couple times a week, a few times a month, or once a year. It's up to your schedule and our availability of dates.  Please note that due to high demand, all volunteers are limited to one weekend date per month.
Q: What time are volunteers required to arrive for a shift?
A:Volunteers should arrive at Manna at 9:30AM for the morning soup kitchen shift, 12:45PM for the afternoon food pantry, 3:30PM for the evening soup kitchen shift, and 11:30AM for the Sunday mid-day meal. When you sign up to volunteer, the length of time will be included in your date selection.
Q: How does Manna schedule volunteers?
A: Once registered on our volunteer website, individuals are responsible for scheduling their own shifts. Reminders are sent automatically upon scheduling a date, as well as three days prior to your assigned time.

Q: How often should I expect to receive emails with new volunteer opportunities or special event updates?
A: Emails are sent two to three times a month with scheduling updates; additional mailings may be sent for special events and in times of high need. If you are interested in dates more than a month in advance, please contact us and we will try our best to accommodate you.
Q: I would like to volunteer with a group from my company/organization, what should I do to get started?
A: Please visit our how to volunteer page and complete the group volunteer form.
Q: Is a Manna staff member available to come out and visit our school, organization, or group?
A: Yes! In an effort to continue sharing Manna's mission in and around our community, our staff is committed to providing schools, community organizations, faith-based groups, and businesses with on-site visits to learn more about our organization and ways to get involved. We are happy to schedule a visit to discuss volunteer opportunities, fundraising, food drives, special events, and other unique projects! Please contact Meg@mannaonmain.org for more information.
Q: What should I do if I do not have an email address or Internet access?
A: Since all of our scheduling is completed online, it is necessary to have an active email address and Internet access. If you do not, please contact us and we will set up a time to help you create an email address and access our schedule in Manna's computer lab.
Q: How do I share suggestions with staff?
A: Manna's staff always welcomes feedback, ideas, and suggestions! Please feel free to send us an email, give us a call, or talk with us the next time you come to volunteer.