Our Mission
Manna on Main Street is committed to ending hunger in the North Penn region by providing food, fulfilling social service and education needs, and conducting community outreach. Through a food pantry and soup kitchen, emergency financial aid, counseling and referrals, and education opportunities, we serve those in need with the hope "that everyone might be fed."
Our Vision
"That everyone might be fed."
Our History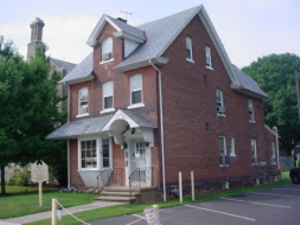 The year was 1981. At the time, there were many unmet needs in the community. The government and other local agencies were simply not able to respond to needs for food, housing and other emergencies. Under the leadership of Reverend John Touchberry of St. John's United Church of Christ, local churches and caring individuals from the community came together. Out of that gathering, Manna was born. For the first two years, operations took place from the basement of the church. When the building next door was donated by a parishioner, Manna on Main Street came to life.
At the outset, soup was served two days a week and government surplus food was distributed. Day to day operations were handled by volunteers. In the early 1990s, a part-time coordinator was hired to oversee financial aid for emergencies. Over time, Manna on Main Street's hours and programs were expanded to respond to increasing community needs. In April of 2012, Manna moved to 713 W. Main Street, expanding operations from 800 to 5,300 sq ft! Our volunteers and the families we serve greatly appreciate the elbow room.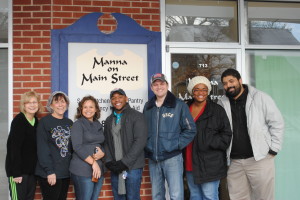 In fall 2016, Manna moved again to our new home at North Penn Commons (NPC), expanding operations to about 6,300 sq ft. NPC is an innovative partnership to co-locate facilities and share client programming with Advanced Living Communities, the North Penn YMCA and The PEAK Senior Center.  Today, with a staff of sixteen and a volunteer force of more than 3,000, meals are served, food is distributed, funds are provided for emergencies, and education classes are held to lift up our community. More importantly, Manna on Main Street is a place where all people are welcome – people in need and people who want to serve to improve the health and well-being of our community.
Hours of Operation
Manna is open seven days a week. Our administrative office hours are 9 a.m. – 5 p.m.
Manna does not have programs on the second Friday of every month to provide administrative time for staff members.
Click here for our program hours.
Manna Holidays
Manna is closed on the following holidays:
Good Friday
Memorial Day
Independence Day
Labor Day
Thanksgiving
Day after Thanksgiving
Christmas Day
New Years Eve
New Years Day
*Manna on Main Street complies with the U.S. Department of Agriculture (USDA)'s civil rights regulations and policies. To read the whole document, please click here.