➡ Interested in enrolling? Welcome! Click here.
➡ Interested in hiring a graduate? Wonderful! Click here.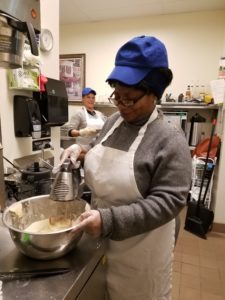 The Vision: Common Grounds
Manna on Main Street is committed to ending hunger and the joblessness that fuels this instability. The Common Grounds Food Service Training to Employment Program is a free, 14-week training program that utilizes the national, evidence-based Catalyst Kitchens model. Trainees engage in experiential learning, contributing to food production in Manna's mission-driven kitchen and service of Manna's Common Grounds Café and Common Grounds Catering Program, gaining additional job-ready experience. Classroom instruction in food service and employment competencies furthers skill development, with social services provided based on trainees' needs. All trainees graduate with the goal of securing food service employment and a successful, sustainable career.
Trainees represent individuals living in economic instability who have made the commitment to invest in themselves and their future.
The Why
In Montgomery County…
More than 78,000 individuals or 9.7% are food insecure; a troubling 22,000+ children or 12.6% experience food insecurity.
In a community of affluence, 6.6% of individuals live in poverty, and many more struggle on a daily basis.
In Bucks County…
More than 55,000 or 8.8% are food insecure; 17,950 children or 13.2% experience food insecurity.
Countywide, 6.3% live in poverty.
Together, we can advance the food security and economic vibrancy of our community, strengthening Montgomery and Bucks Counties through sustainable employment.
Feeding America Map the Map Gap 2015 | US Census Quick Facts 2011-2015
The You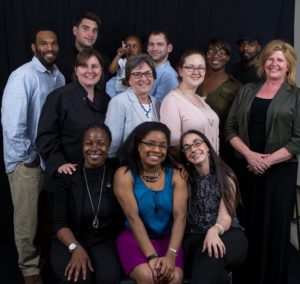 Be part of this transformational change!
Trainees: Join the team! Please click here for the application & information. Send your completed application to Sue Jurina, the Recruitment & Student Affairs Coordinator. Once received, she will contact you to review your application. ProgramAssistant@mannaonmain.org or 215.855.5454.
The training program will begin with a Challenge Week (interview): April 23-25, 2018, with the program operating April 30-July 26, 2018. This program is offered year-round, with open enrollment every 7 weeks with up to seven trainees per session.
Givers: Donate to Manna, and support this training program as well as Manna's emergency food and social services programs.
Through the Common Grounds Food Service Training to Employment Program, Manna can help transform lives and create lasting change through what we know best: food.