Garden Location:
Christ United Methodist Church
1020 S. Valley Forge Road (Towamencin Township)
less than 5 minute drive from Manna on Main Street
Christ United Methodist Church (CUMC) and Manna on Main Street have partnered together to develop a community vegetable garden on the property of CUMC at 1020 S. Valley Forge Road, Lansdale (Towamencin Township). This garden brings fresh produce to families in need, and shared garden responsibilities creating fellowship, connections and skill sharing for garden volunteers from Manna and CUMC.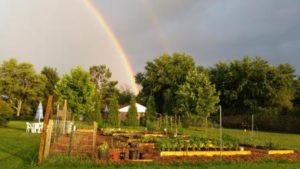 How you can be involved:
– Volunteer on work days
– Donate seedlings, seeds, or garden tools
– Provide receipes for harvested produce
We welcome community involvement with this great project. Please email Manna's garden coordinator, Jessica Gerani at garden@mannaonmain.org to be added to our communication distribution or ask questions. You can hear updates on the garden or leave your contact information on our voicemail at 215-855-5454, ext. 41.
The 2016 Season:
We hope to have the 2016 schedule up in the spring!
Last year's Garden Volunteer Work Days were on Wednesday and Saturdays, starting early June. The garden will only be open during these times so we can ensure our garden coordinator, Jessica, or another committee member will be on hand to lead the tasks for the garden.
No gardening experience required to participate! Drop by during our work days and stay as long as you want. Kids welcome, must be supervised.
Questions or Want to Be Involved? Contact Garden@MannaOnMain.org or 215-855-5454, ext. 41