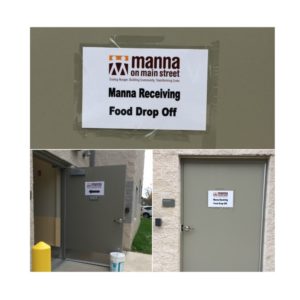 Food donations may be dropped off at the Manna receiving door:
Monday-Friday, 9:00 a.m. – 5:30 p.m.
Saturday-Sunday, 10:00 a.m. – 2:00 p.m.
*Please note the change in drop off hours.
On the 2nd Friday of each month, our office closes early, so please drop off by 4 p.m.
We do prefer that food drives and anyone who needs assistance with carrying bags drop your food off between the hours of 9am-3pm on Monday through Friday, when we have the most staff and volunteers available to help.
If you have a large donation please contact Britt, our Food Resource Manager, before you drop off your donations. She can be reached at britt@mannaonmain.org or 215-855-5454 x15
Manna has moved to our new home in North Penn Commons. Our address is 606 E. Main Street, Lansdale, PA 19446. Please bring your donations to the receiving door on the west side of the building. Look for the sign that says Food Drop Off. Thank you!