Manna's Kitchen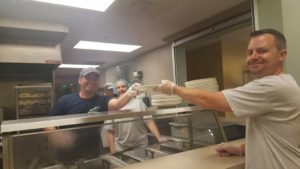 Individuals in need of warm, healthy meals can eat at Manna seven days a week, with two meals offered Monday through Friday and brunch on Saturday and Sunday. As a public soup kitchen, all are fed, creating an inclusive and welcome table. Meals are served restaurant-style, with volunteers greeting guests and taking food and beverage requests based on the day's menu.
Last year, we served 37,257 meals! For the working poor, the elderly, the homeless, or those simply in need of a good meal and company, our soup kitchen offers healthy, warm options in a welcoming and safe environment.
Manna's Kitchen Hours
Monday-Friday, 10:00am-12:15pm & 4:00-5:15pm
Saturday-Sunday, 11:00-1:30pm
Manna's Market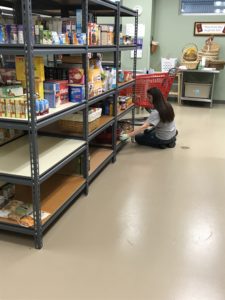 Manna's Market Hours:
Monday 6:00-7:30pm
Tuesday, Thursday, and Friday, 1:00-3:45pm
Wednesday 9:00-11:00am and 4:30-6:00pm
Our Market operates using the choice model best practice. Like a small grocery store, individuals may shop for the foods that best meet their dietary needs and preferences, but within agency controls based on household size, food categories and quantities. Manna's Market uses SmartChoice, a program based on the MyPlate healthy eating model. SmartChoice offers three convenient shopping options: Online, Kiosk or Self-Shopping!
Households may shop in Manna's Market twice a month, selecting fresh, canned and boxed food goods. For neighbors in need, our choice pantry increases the dignity of service provided and creates a welcome and caring space in our community.
Manna's Market services are available to anyone living within the North Penn School District, with the exception of Hatfield which offers their own food cupboard. Our Market is intentionally inclusive, with residency as the only requirement to be served. We recognize that unemployment, medical challenges or unexpected financial crises create emergency situations in which people need access to food providers. Our doors are open for as many in need as possible. Each shopper will be required to complete an intake form, including household, demographic and financial information. Of the individuals we serve in our pantry, 99% live below 300% of the poverty level.
Our Market is largely stocked through community donations. Individuals, families, businesses, and civic and faith-based organizations contribute canned and fresh foods to ensure that no one in our community goes hungry. This past year, we distributed 514,562 pounds of food to 926 households in need.
For a list of items that we currently need in our pantry, please see what's needed. Thank you!
Dairy Day Program
If you're a senior in need of dairy products, please let us know. Through a partnership with Freddy Hill Farms, low-income seniors who shop in our pantry are eligible to receive a gallon of milk, a dozen eggs, ½ pound of cheese and a pound of butter each month. We want our seniors to stay healthy!
Emergency Financial Aid Program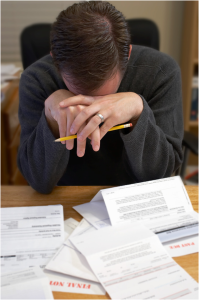 Manna's financial aid is intended to be for one-time assistance and has a lifetime limit. Aid is provided only to individuals who have lived in the North Penn School District for at least six months. In addition, funds are always sent directly to the landlord, utility company, health providers, or pharmacy. Financial aid may be provided towards:
Rent
Security deposits
Utilities
Emergency motel stays
Emergency media needs
Prescription needs
Manna coordinates over 100 referrals each month to a variety of area providers. This past year, we coordinated more than $118,000 in emergency aid with the support of community partners, such as the Salvation Army. For individuals in crisis, Manna's emergency financial aid program is a source of hope and life-changing care.
Keeping Friends Cool!
Our Summer Cool Down Program is a special part of our emergency financial aid program. During the summer, Manna prepays electric bills for seniors so that they can run fans or air conditioners. For many seniors living on fixed incomes, they cannot afford the increased utility bill that a fan or air conditioner brings. We help them stay cool and healthy in the heat!
Manna's assistance helps people get through tough times, keeping families intact as much as possible. You can make an appointment with our case management team if you need assistance.
Education Program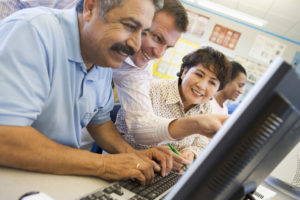 Manna's Education Program supports individuals working to further develop personal and professional goals, often during difficult transitional times. Our program emphasizes job readiness, financial planning, and computer literacy skill development.  One-on-one time and instruction provides critical support for participants through relationships that are forged with Manna's volunteer instructors. Manna is committed to continually improving the quality, availability, and effectiveness of our educational and community based programs, and in so doing, we are able to provide sustainable solutions to ending the root causes of hunger in our region. If you'd like to assist with this program as a volunteer, please contact Teri, our Case Manager at teri@mannaonmain.org. If you are interested in attending one of our education sessions, click here.
Getting Ahead in a Just-Gettin-By World (GA)
Getting Ahead is a 16-week class that invites people living in poverty to investigate solutions to help themselves, others, and their community transition out of poverty and instability. Participants are compensated for their work; the research they complete helps Manna and our community transform how we understand poverty, its causes, and ultimately, solutions.
If you are interested in becoming a Getting Ahead investigator, contact Manna's Client Services Manager, Nadja Mummery: nadja@mannaonmain.org or 215.855.5454, ext 16.
Youth Programs
We love getting to work with our young friends in the community! We invite you to get involved in these programs and help boys and girls throughout the North Penn region.
Holiday Help
During the holiday season, Manna invites the community to participate in our Hope for the Holidays Gift Card Program.  Last year, we provided $75 gift cards to each of the 380 children who participated in the program.  With the support of our generous community, we helped over 163 families have a more joyful holiday season, bringing smiles to parents' hearts, and excitement and wonder to children during the holidays.   Thank you for your donations.  If you are in need of support during this holiday season, please speak to one of our case managers by calling 215-855-5454 and ask for Teri.
Back To School
Each year, Manna distributes backpacks and school supplies to help the children we serve get ready for school! Through the generosity of partners such as Dorman Products, the North Penn United Way and the Salvation Army, we distribute these supplies to our young scholars on the third Saturday of August each year.